The best books on crypto and NFTs for beginners are more than professionals, in this article, we are looking at the best books on crypto and NFTs for beginners in 2022. To enter the world of cryptocurrencies and blockchains, there are many websites you can learn from. There are also a lot of videos on YouTube that act as beginners' guides to those who want to learn how to develop, mine, stake, and trade in the world of cryptocurrencies.
But as always, books are the ultimate choice in the world of knowledge. Many subjects you find on the internet are extracted from books. Since there are specific rules about publishing books, you can ensure their material's authenticity. Books are also more inclusive about the theoretical and scientific basis of the subjects you want to learn.
This article will introduce and shortly review the best books on crypto 2022.
Best books on crypto for beginners in 2022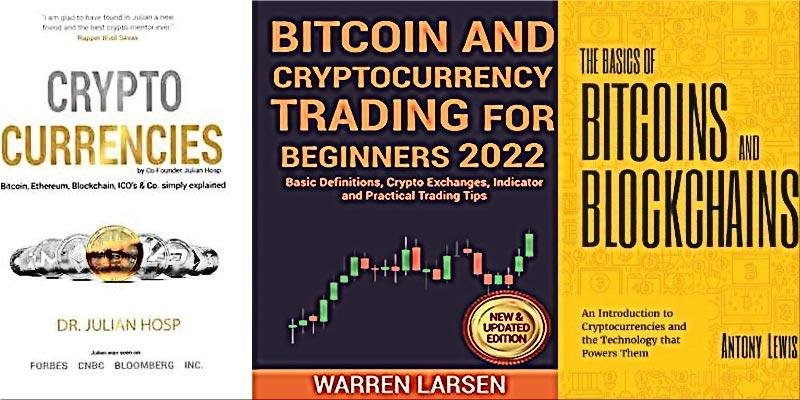 We start with some books for beginners and newbies.
The first item on our list of the best books on crypto and NFTs for beginners is "Cryptocurrencies simply explained" by Julian Hosp. In this book, the concepts of cryptocurrency are explained. This book comes with an additional workbook and uses simple methods to present the most complex ideas about cryptocurrency. Julian Hosp is the CEO and co-founder of Cake Defi.
The second book on this list is "Bitcoin and Cryptocurrency trading for beginners 2022" by Warren Lassen. This book is recommended for beginners as well as professionals. This book teaches you to make money in the world of cryptocurrencies. How to trade, and how to protect your assets. It also tells you about market manipulation and how to choose the best platform.
The third book we believe each beginner must read is "Basics of Bitcoin and Blockchain: an introduction to cryptocurrencies and the technology that powers them." Antony Lewis describes the basics of bitcoin and blockchain. It is a must-have for those who want to learn about the world of cryptocurrencies on a deeper level.
The best books on crypto trading
You sure want to put your knowledge of cryptocurrencies into action, so we will introduce the best books on crypto that teach you how to trade, stake, mine, and every other necessary information you need to enter this business.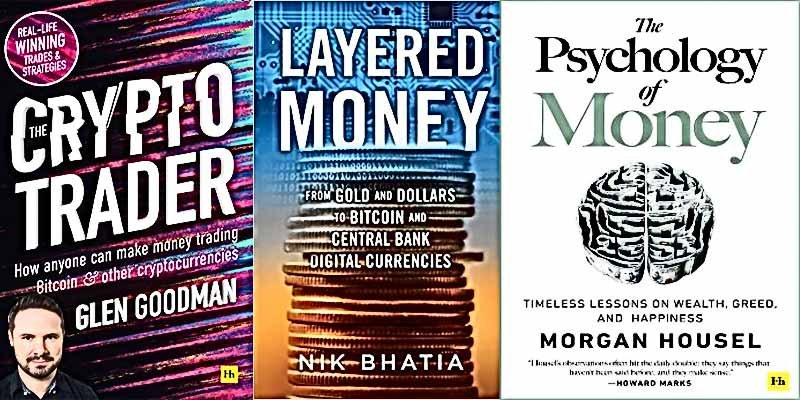 The first item we recommend on the best books on crypto business is "The Crypto Trader." Glen Goodman, the author, is a successful trader and teaches real-life trading techniques and strategies in his book.
"Layered Money" by Nik Bhatia is the next item on our list of best books on crypto and NFTs. This book tells us about the hierarchy of digital money.
If you need to learn more about concepts of investment and business, "Richer, Wiser, Happier" by William Green and "Psychology of money" by Morgan Housel teach you how to behave in real-life situations to be a successful business person. These behavioral techniques could act effectively in the world of cryptocurrencies as well.
The best books on crypto investing

The title says it all; "The only cryptocurrency investing book you'll ever need" A book by Freeman publications tells you all you need to know about cryptocurrencies. It is also a great source of information for those looking to learn about investing in cryptocurrencies.
"Crypto Technical Analysis" by Alan John and Jon Law is the next item on the list of best books for crypto investing. Technical analysis means detecting order in chaos and identifying hidden patterns. This book helps you to fund professionally in the world of cryptocurrencies.
Andreas Antonopoulos, author and information security expert, explains why you need to invest in cryptocurrencies in his book "The internet of money." He also describes how the world of business and internet security will change with blockchain technology.
Traders and investors need legal information on how to make money and protect their assets. In "Blockchain and the Law the rule of code" Aaron Wright explains how we should change our legal thinking concerning blockchain technology and cryptocurrencies.
Best books on crypto for beginners on Reddit
The following is the list of best books on crypto for beginners by American content rating and discussion website Reddit:
Blockchain Revolution: How the Technology Behind Bitcoin and Other Cryptocurrencies Is Changing the World by Don and Alex Tapscott
 The Blockchain Developer: A Practical Guide for Designing, Implementing, Publishing, Testing, and Securing Distributed Blockchain-based Projects by Elad Elrom.
Blockchain Basics: A Non-Technical Introduction in 25 Steps by Daniel Drescher
Platform Revolution: Blockchain Technology as the Operating System of the Digital Age by Don Tapscott
The Bitcoin Standard: The Decentralized Alternative To Central Banking by Saifedean Ammous
Best books on NFTs
A non-fungible token (NFT) is financial security. It consists of digital data stored in a blockchain, where the ownership of an NFT is recorded in. NFT can be transferred by the owner, which means you can trade NFTs. These non-fungible tokens reference digital files such as photos, videos, and audio.
NFTs are uniquely identifiable. This is the main difference between NFTs and cryptocurrencies, which are fungible. The market value of an NFT is associated with the digital file it references. This article's final section will introduce the best books on NFTs.
Everything You Need To Know About Non-Fungible Tokens (NFT): The Secrets To Supercharge Your NFT Investing & Creations is your easy step-by-step guide to NFTs. Nathaniel Dolton teaches you anything and everything about NFTs and cryptocurrencies. So this is a must-read on the list of the best books on crypto and NFT for beginners.
The NFT handbook by Matt Fortnow: The NFT handbook by Matt Fortnow is a detailed guide that teaches you how to buy, sell and create NFTs. The best thing about this book is that you do not need a technical background to understand the concepts. So if you are looking for a book on crypto and NFT that helps you act like a pro, this is your choice.
Our recommended list of the best books on crypto and NFT, 2022, from beginner to advanced. The world of blockchain and cryptocurrencies are constantly changing at high speed, but to keep up with the latest advantages in this field, you need to learn from the latest sources, such as these books.