Import wallet to Metamask with your seed phrase or private key using this tutorial. The Metamask wallet was created and developed in 2016 by Aaron Davis and Dan Finley. This wallet, which is referred to as a web3 wallet for cryptocurrencies, is quite popular among Ethereum token enthusiasts, which caused several versions of it to be released in a very short period for mobile phones (Android and IOS) as well as Chrome and Firefox browsers.
By following this easy step-by-step guide, you will be able to import wallet to MetaMask account with a private key and seed phrase, and after that, you can see your tokens on your Metamask extension. In the end, we have provided you with a tutorial on importing a trust wallet to Metamask, so stay with us and enjoy.
How to import a wallet to MetaMask?
First, let's talk about MetaMask itself. MetaMask, like all wallets, is a place for safe storage of the private key and public keys of the Ethereum and Binance networks and the tokens of these two blockchain networks. In addition, this digital wallet can connect to decentralized applications such as decentralized exchanges, game platforms and NFT fields, and lending platforms in cryptocurrencies.
Connecting to DeFi platforms, Ether cryptocurrency storage, Ethereum network tokens, and Binance smart chain are among the main uses of this wallet.
To import a wallet using a private key or seed phrase, install the MetaMask browser extension for your preferred browser, or install it on your phone.
1. Open the https://metamask.io/ website or search for "MetaMask extension" in your preferred browser (MetaMask is available for Chrome, Firefox, and Edge).
2. To install MetaMask as a Google Chrome extension (the same goes for other browsers), click Add to Chrome.
3. Click the Add Extension button.
That's all! The MetaMask extension has been installed successfully. It is now time to connect your other wallets to MetaMask. Here, we are going to talk about how to import a wallet to MetaMask with a seed phrase first; then, we will go on to how to do the same thing but with the private key.
Import wallet to MetaMask with a seed phrase
If you have your seed phrase (mnemonic phrase), you can import your wallet straight away using the following steps:
1. After installing the MetaMask extension, a page will pop up. Click on import wallet to MetaMask.
2. Enter your seed phrase.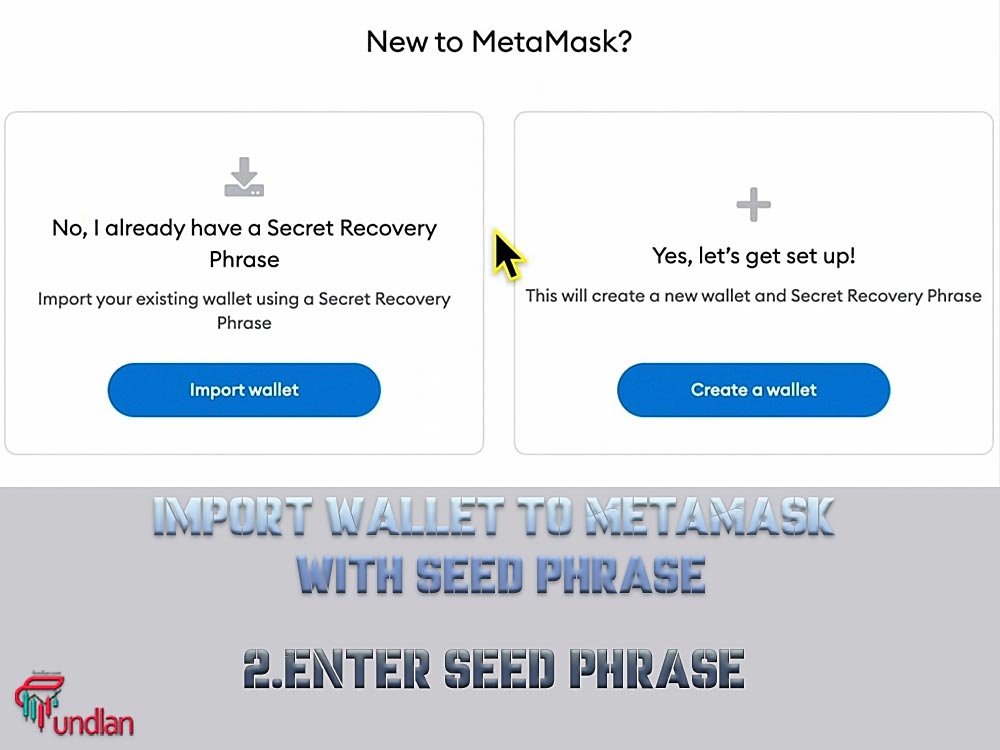 3. Now, you can set up a new password for your imported wallet.
4. After that, agree to the terms of use.
5. Click on the import button.
With that, you have now imported your wallet from another installation to your MetaMask extension on pc. Now let's use the private key to import wallet to MetaMask.
How to import MetaMask wallet with a private key?
This section is for those who have already made a new account on their desktop but still want to have their old wallet on their extension. If you are one of those people, follow this tutorial:
1. Open up your new MetaMask extension.
2. Click on your account picture.
3. Click on import account
4. Here, you have two options. You can either choose the private key option to import wallet to MetaMask, or you can choose the JSON file option to do the same thing. For the purpose of this article, we are going to choose the private key option.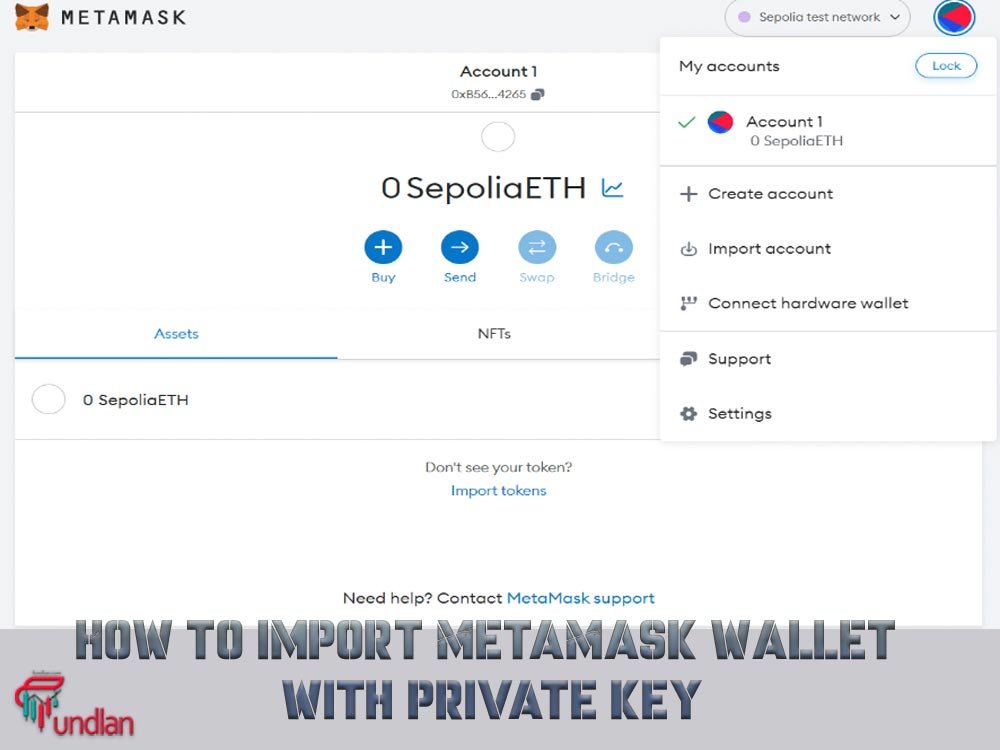 5. Enter your private key in the blank area.
6. Click on import.
Done!! Now you can see your wallet on your MetaMask extension.
Import trust wallet to MetaMask
1. After downloading and installing the MetaMask extension for your browser, open up MetaMask.
2. If you are already logged into your account, log out by clicking on the lock button, and if you are not logged in, don't enter your password.
3. Use the ''import secret recovery phrase'' option to import your trust wallet account to MetaMask.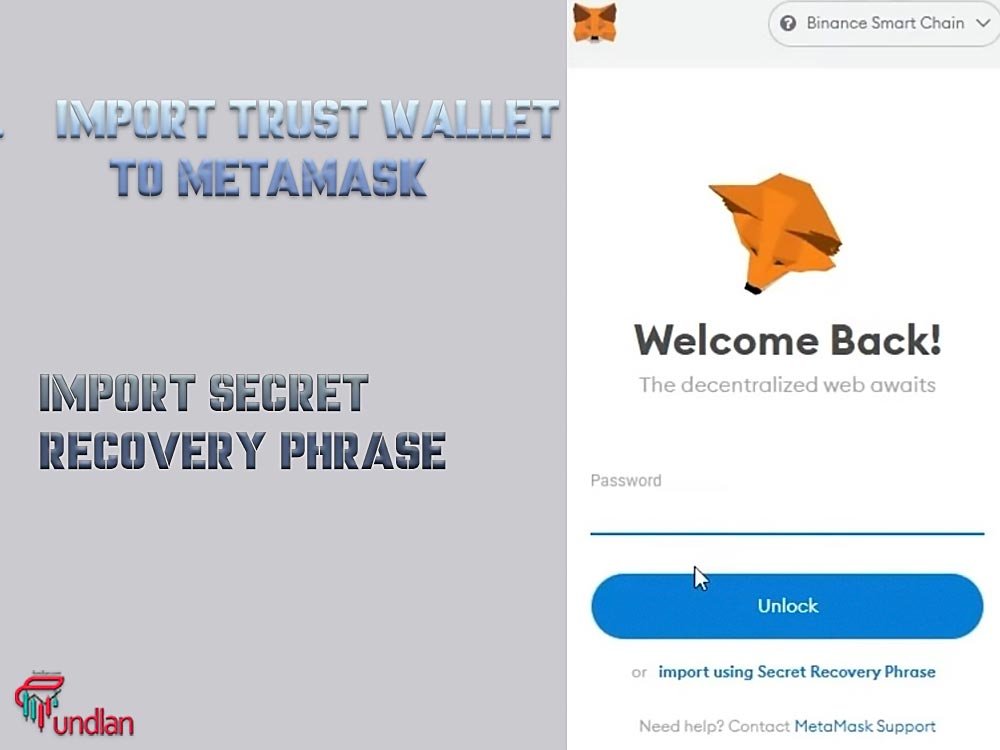 4. Paste your trust wallet secret recovery phrase. If you don't know where to find it, go to your trust wallet settings and click "show recovery phrase" for that specific account. Copy that phrase.
5. After pasting your recovery phrase, enter your new password and confirm it.
6. Press "restore."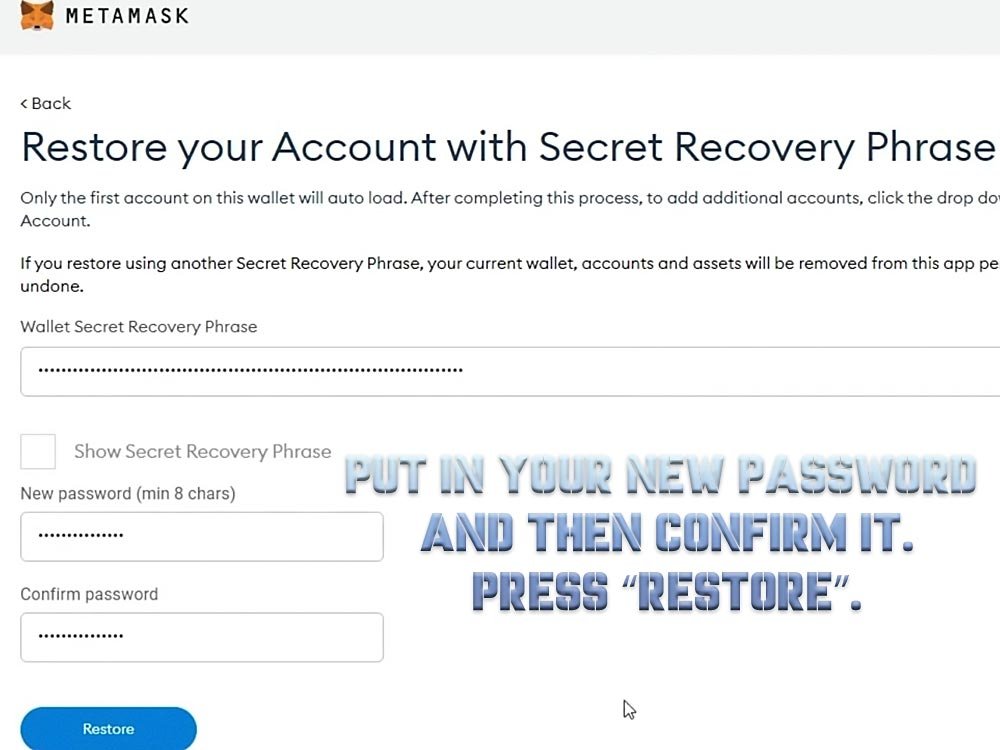 7. After pressing restore, you will see your trust wallet account and your tokens on MetaMask.
Conclusion
This article taught us how to import a wallet to Metamask as a desktop extension. Here we talked about two ways to import a wallet to Metamask: private key and seed phrases. You can also use your trust wallet private key to import your trust wallet account to your Metamask wallet.
Knowing how to import a wallet to Metamask is essential for cryptocurrency traders and investors, especially NFT holders and blockchain enthusiasts. In the end, remember to keep your private key and seed phrases somewhere safe, and remember not to give away those secret keys to anyone or any website.
Metamask will not be responsible if you lose your secret phrase or your account gets hacked and your funds stolen.