Keep3r network is a decentralized platform to facilitate coordination between developers and technical teams. If we want to simplify the tasks and goals of this platform, we can say that in this platform, DAPP projects offer their jobs in the form of smart contracts.
On the other hand, technical teams (Keepers) can handle it, if they wish, announce their offers in a smart contract on the platform, and announce their readiness. Before talking about the keep3r network, it is better to answer this question. Who is Andre Cronje?
kp3r Andre Cronje
Andre Cronje is a familiar name for many cryptocurrency activists. He is a blockchain engineer and software developer who has gained worldwide fame by launching the Yearn. Finance project. He also works as a technical consultant on the Fantom project.
Other Cronje resumes include Chief Technology Officer at fintech, Chief Technology Officer at Shoprite group, Code Review Manager at crypto briefing, and operating at BitDiem, Cryptocurve and Lemniscap companies.
One of his most critical recent moves is introducing the keep3r network in October 2020, a dedicated token known as KP3r. This article will raise keep3r (kp3r) cryptocurrency and examine its advantages and disadvantages.
What is the kp3r network?
Keepers must lock some KP3R tokens as a guarantee to be able to do the jobs offered. The locked tokens are called bonded KP3R. Depending on the reward and difficulty, every job shown on the platform requires some of these tokens to be closed, so keepers need to bail out a lot of tokens to do great rewards.
A mechanism is also designed to immediately remove the collateral if the Keeper intends to sabotage the system. The person doing the work can change their collateral cryptocurrencies from Bonded to normal.
Advantages and disadvantages of  bonded KP3R
By keeping more bonded kp3r, they can do expensive tasks.
The only people who have the right to vote in the ecosystem are the bonded kp3r holders.
No one can defraud the bonded kp3r. In other words, these cryptocurrencies are invulnerable.
The only disadvantage of maintaining a bonded keeper is that the keepers cannot immediately prepare the Ethereum needed for the transaction fee. So they need to keep some of their kp3r cryptocurrency in the bonded form. Of course, there is a solution for this called MetaKeep3r.
What is the rKP3R token?
KP3R redeemable tokens, packaged with a 50% discount and can be used at any time, are called rKP3R. rKP3R can be obtained by providing a curve. FI/factory. Also, all of Keeper's distributed bonuses will be in the form of rKP3R for compatibility with Curve Gauges, Sushi Onsen, and more.
rKP3R holders can redeem keep3r tokens by selecting Claim at fixed forex. fi/options. After that, if you choose the option and the expiration date, the USDC amount required to pay KP3R will be displayed as a "strike." If you wish to use this option, select the "Redeem" button, and the USDC amount will be transferred to the Treasury address; finally, all costs will be distributed among VKP3R holders.
The purpose of the keep3r network?
According to Andre Coroner, his goal in launching this project is to empower developers, not speculators. As blockchain projects use many smart contracts, this platform will reduce implementation and maintenance costs. Also, if you have the desired technical knowledge, you can work as a keeper on this platform and be rewarded.
Keep3r network
Andre Cronje high confidence in his new project and Having potential beyond a job registration system led him to combine all his projects under the keep3r ecosystem to create a large liquidity ecosystem. Options liquidity mining, fixed forex, and version 3 liquidity incentives are among his future endeavors.
It is a role set for ordering transactions within a block entirely transparently. The importance of this protocol for the network is that it prevents the advancement of businesses and keepers and prioritizes access to block space. Also, protecting users against minor actions such as maximal extractable value (MEV) benefits the Eden protocol.
Keep3r works with the Eden Network. By purchasing 602409 Eden, this project ensures that the keeper network is located in the slots of the Eden network.
Fixed Forex provides an alternative to dollar-equivalent stable coins (usdt, usdc, busd, ust…) by bringing the forex market into defi.
Fixed Forex is a Liquidity incentive system and fee claim for the iron bank. By merging IBFF and velBFF tokens with KP3R and vKP3R tokens, a $ 60,000 fee will be transferred to vKP3R every week.
Fixed forex has partnered with Zarp. Cash to produce the ZARP token, the same value as South African RAND. For more security, ZARP tokens are stored in the treasury account. These tokens have been audited by Kempen and are a replacement for RAND in defi.
Keep3r Liquidity mining Options
The Keep3r platform allows projects to have a reward incentive program based on instant options. VKP3R holders can take advantage of this platform because they are entitled to 1% of all option costs. Therefore, vKP3R holders will be charged $100,000 per week.
Keep3r v3 liquidity incentives
A liquidity mining program has been launched on Keep3r version 3 for uniSwap V3.
Another name for Keep3r Wonderland is Defi Wonderland, which, as an active fund, provides capital for protocol developer projects.
Collaboration of the Keep3r project with Chain link
Keep3r uses secure and robust chain-link oracles to improve its services. Although these two projects have the same functions, the target market of each of them is different.
On the other hand, the Keeper probe provides services to applications not added to the Fortune 500 list. These companies are still in the research and development phase. So by putting these two protocols together, the process of sweat things to a chain link becomes more accessible when the off-chain data needs to be multiplied.
Most importantly, this collaboration allows Keepers who have already done a significant amount of work to be part of chainlink Node operators doing meaningful work. When upgrading Keepers to become a chainlink node operator, using LINK replaces the Keep3r token.
How is the keep3r network secured?
Keeper smart contracts were audited by PeckShield, a blockchain security company, at the end of October 2020. The audit showed that Keep3rV1 was very well-designed and organized. It failed to detect significant security vulnerabilities but was able to identify some moderate to high risks.
Andre Cronje also said in his remarks that he is fixing the problems.
keep3rv1 price prediction 2022
The figure shows the kp3r usdt diagram, which illustrates the keep3r price prediction. KP3R analysis shows that this cryptocurrency has experienced 28.8 times price growth in its latest uptrend. In this upward trend, the kp3r price started to grow from $67 and finally hit the resistance of $1930. After failing to break the opposition, the price dropped to $537 and is preparing to break its resistance.
Finally, the kp3r price tried $ 1930 resistance again and still couldn't break it. The double top pattern worked well and caused price correction.
After that, the price fell further, and lost the $537 support. The downtrend is not over yet, and it seems that the support of $138 has been lost. Then the next target will be $67 after. If we see a substantial return in terms of price action from $67 support, we can consider $67 as an ATL. But if the downward trend continues, the following supports are $38, $17, and $8.5. But we must consider that $67 is an essential support for keep3r.
keep3r network coinmarketcap
At the time of writing, kp3r is priced at $307.8. With a market cap of $61 million and a daily trading volume of $14 million, the cryptocurrency is in 449th place on coinmarketcap. 99% of the tokens have been released and are being traded.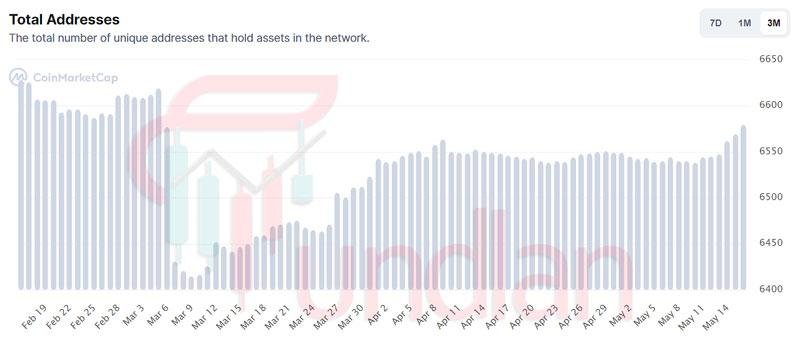 Total addresses of this cryptocurrency have reached their highest level in the last two months. The number of these addresses is currently 6579, and this trend is increasing rapidly.
Total number of KP3R addresses
The number of complete addresses is given in the table below.
[table id=1 /]
 Where to buy the Keep3r token?
KP3R is available in 32 exchanges. It is listed in the centralized exchanges of Binance, kucoin, MXC, Kraken, Gate.io … and decentralized exchanges, like uniswap, sushi swap, etc.
keep3r network has 20,000 Twitter followers, 89 GitHub followers, 13 GitHub contributors, 121 GitHub forks, 382 GitHub stars, and 172 GitHub commitments.
According to current data, 94% of traders at this price are losing out on trading this cryptocurrency. The dominance of large holders is 93%, and the combination of holders over time shows that 5% of holders hold less than 1 million tokens and 35% 1 to 12 million, and 60% hold the rest of the tokens.
The number of transactions over $100,000 is 5.22 million in 7 days, of which 52% are in Western countries and 48% in Eastern countries.
KP3R wallets
Fantom, Solana, and Binance Smart chain networks support this cryptocurrency. Therefore, this token can be held in wallets that support these networks, such as Trust Wallet and Metamask.
Is kp3r a good investment?
For a project to be successful, it is enough to solve a problem in the community and have proper marketing. The keep3r project, thanks to its prominent founder, has been able to go a part in this way. However, it should be noted that most of the plans and capabilities of this project are speculative, and it is not possible to accurately predict the future that.
Recent data show that the total number of addresses has been increasing, but on the other hand, the total value locked is still in a downward trend. The project tokenomics is in good condition, and a large part of the tokens have been released, resulting in meager inflation.
How this cryptocurrency is distributed in different wallets reduces the possibility of being a scam.
Recent activities and collaborations show that the development team of this project is still active and is helping to develop and advance the project.
The fundlan team has tried to examine all aspects of this cryptocurrency and provide comprehensive and complete information about it. The risk of any investment in this project is the investor's responsibility, and our team is not responsible for any possible losses. Please try to consider all the aspects and risks before investing.