In the age of rapid technological advancements, airdrop has become an indispensable feature for seamlessly sharing files between Apple devices, and why say airdrop declined is a very important topic.
However, the frustrating message "Airdrop Declined" often leaves users puzzled and seeking answers.
This essay will focus on the underlying reasons behind this enigmatic occurrence, exploring the complexities of Airdrop's functionality and the possible factors contributing to declined transfers.
If you have this question in your mind that "Why Does Airdrop Say Declined?" and now you are seeking how to fix it, this essay can help you to do so!
(5) Reasons why Airdrop says it declined
Airdrop, a convenient file-sharing feature exclusive to Apple devices, occasionally displays the frustrating message "Airdrop Declined," leaving users bewildered.
Several factors contribute to this irritating phenomenon, encompassing technical and user-related aspects.
We listed 5 of the most important of them below:
· Privacy & security settings
A common cause for airdrop declinations lies in the recipient's privacy and security settings.
If their device is set to "Contacts Only" or "Receiving Off," Airdrop requests from unknown senders may be automatically declined.
Encouraging recipients to adjust their settings or add senders to their contact list can mitigate this issue.
· Incompatibility issues
Airdrop may decline transfers due to device incompatibility. Devices with older operating systems or limited hardware capabilities might need help establishing a secure connection, leading to declined transfers.
Updating devices and ensuring they meet Airdrop's system requirements can resolve this.
· Distance & proximity
Airdrop utilizes Bluetooth and Wi-Fi to facilitate file transfers, limiting its range to approximately 30 feet. Airdrop requests may be declined if devices are not within the required proximity.
Ensuring sender and receiver devices are sufficiently close can enhance successful transfers.
· Network interference
Wi-Fi congestion and interference from other electronic devices can disrupt Airdrop connections, leading to declined transfers.
Switching to a less crowded Wi-Fi channel or turning off other wireless devices during file sharing may alleviate this problem.
· Software glitches
Like any technology, airdrop is not immune to software glitches.
Temporary issues within the Airdrop framework or device-specific bugs may lead to declined transfers. Restarting devices or updating to the latest software version can resolve such glitches.
Why does Airdrop reduce quality?
Airdrop, renowned for its seamless file-sharing capabilities, occasionally perplexes users with reduced file quality during transfers.
This phenomenon can be attributed to specific factors inherent to the Airdrop mechanism:
Firstly, airdrop may compress files to expedite transfers, compromising their original quality. Images and videos, in particular, may experience a loss of resolution.
Furthermore, when transferring files across different Apple devices with varying display capabilities, airdrop may optimize the file to match the recipient's device resolution, leading to subtle quality changes.
Although Airdrop prioritizes efficiency, understanding these trade-offs can help users make informed decisions when sharing files, ensuring a balance between convenience and maintaining optimal content quality.
Why iPhone declined Airdrop?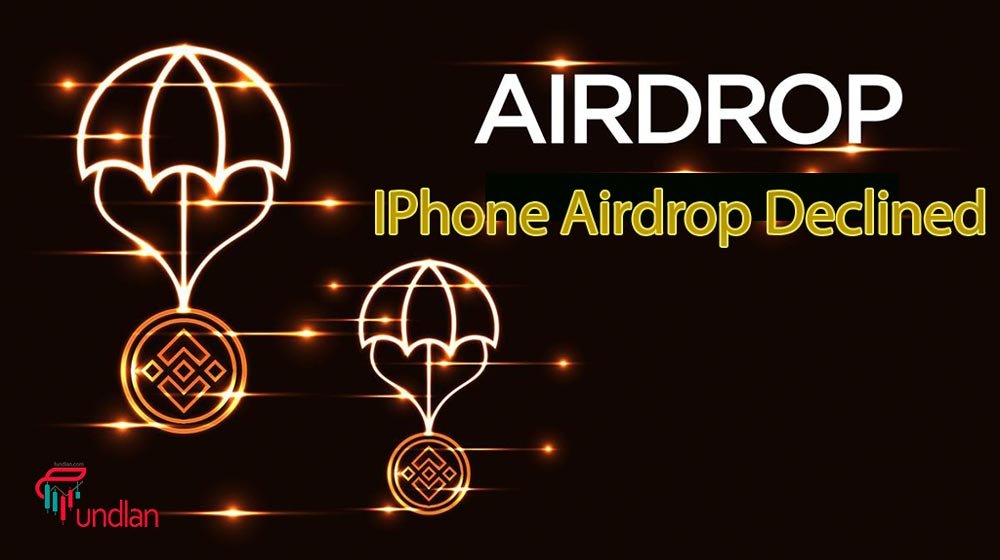 Airdrop's refusal to cooperate on iPhones can be attributed to various factors, leaving users dismayed.
Here are some reasons:
· Battery levels
One possible reason is insufficient battery levels; Airdrop may decline to conserve power, prompting users to ensure ample charge before transferring.
· Network connectivity
Further and even more importantly, though, network connectivity issues may thwart Airdrop's functionality, with weak Wi-Fi signals or airplane mode turning off the feature.
· Not discovered & device
Moreover, airdrop declined when devices were not actively discoverable, emphasizing the need to enable Bluetooth and Wi-Fi visibility for successful transfers.
· Security concerns
Security concerns may also play a role; iPhones set to "Receiving Off" or "Contacts Only" may reject Airdrop requests from unknown sources.
Addressing these factors can foster a more fluid and reliable Airdrop experience on iPhones.
Summarily
In conclusion, the enigmatic "Airdrop Declined" message can be demystified by understanding the underlying factors contributing to this phenomenon.
From privacy settings to network connectivity and device compatibility, a combination of technical and user-related aspects plays a role in these occurrences.
With this knowledge, users can proactively enhance their Airdrop experiences and ensure seamless file-sharing on their Apple devices.
So, the next time you encounter an "Airdrop Declined," ask yourself: "Have I checked my settings and connections thoroughly?"
If you know the other reasons behind the "Why Does Airdrop Say Declined?" issue, do not hesitate to share them with us in the comments!