How to multiply your money in cryptocurrency exchanges? Tradingview paper trading is one of the best tools to achieve this goal. If you are a newbie, one of the ways to prevent the destruction of your beloved capital in the financial markets is to use the Tradingview paper trading method. Of course, paper trading is not limited to beginners, and professional traders use it to test their strategies.
One of the most attractive features of tradingview is the trading simulator or Tradingview paper trading section. In this section, you can lose your unreal money in the real world, learn from these mistakes and finally learn how to profit. In the following, I will teach you the most basic steps, such as registering in tradingview, to the most professional steps, such as checking indicators.
What is tradingview paper trading?
Tradingview paper trading is a sort of trade simulation and allows users to practice before risking real money. Those who are beginners are still not familiar with buying and selling tools, ordering, and many other things. They often have a lot of stress when starting work, especially in a volatile market like cryptocurrency.
Using tradingview paper trading helps these types of traders learn how to work with tools and place orders properly before starting with real money.
Those who go beyond the basic level can use paper trading platforms to experiment with various techniques, evaluate their profitability, and then use the results in the real world. For those traders who turn to day trading, it can be said that using paper trading is a must, and of course, registering on paper is not so helpful.
The reason for using the name paper trading is that in the past, traders used to record the entry and exit points for various assets on paper to test their strategies and calculate the profit and loss of their portfolio by following the daily price in Tradingview discord server.
Tradingview paper trading options?
Tradingview paper trading enables options through brokerage partners. Users can simulate trading options using virtual money without risking real money. This allows traders to examine their strategies and gain experience in the options market.
In order to access tradingview paper trading options, you must have a tradingview account with one of the supported brokerage partners like Alpaca or OANDA. The rest is like using simple tradingview paper trading, which we will discuss below.
Best tradingview strategy tester
How to use paper trading in tradingview?
To start paper trading, follow these steps:
1. Log into your tradingview account.
2. Choose a symbol to trade.
3. Right-click on the chart and choose trade>create a new order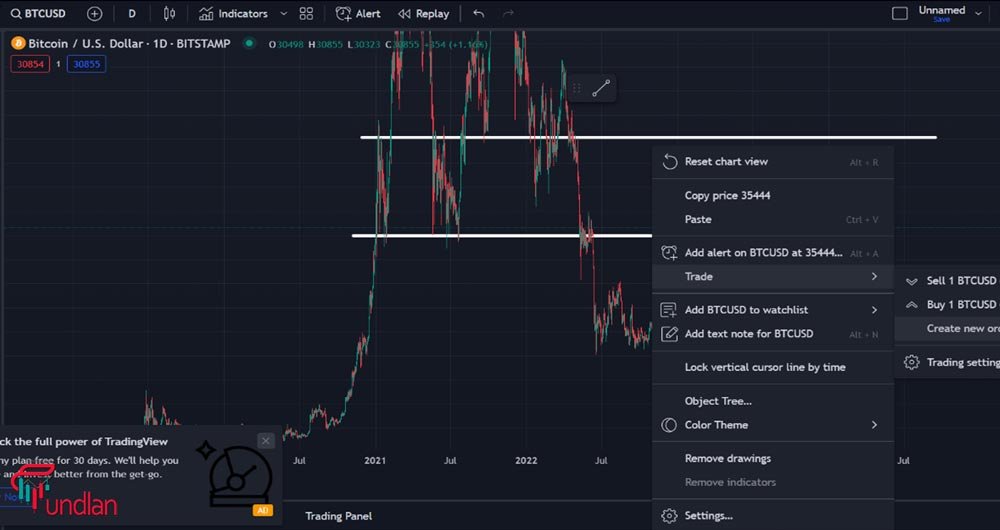 4. Click on paper trading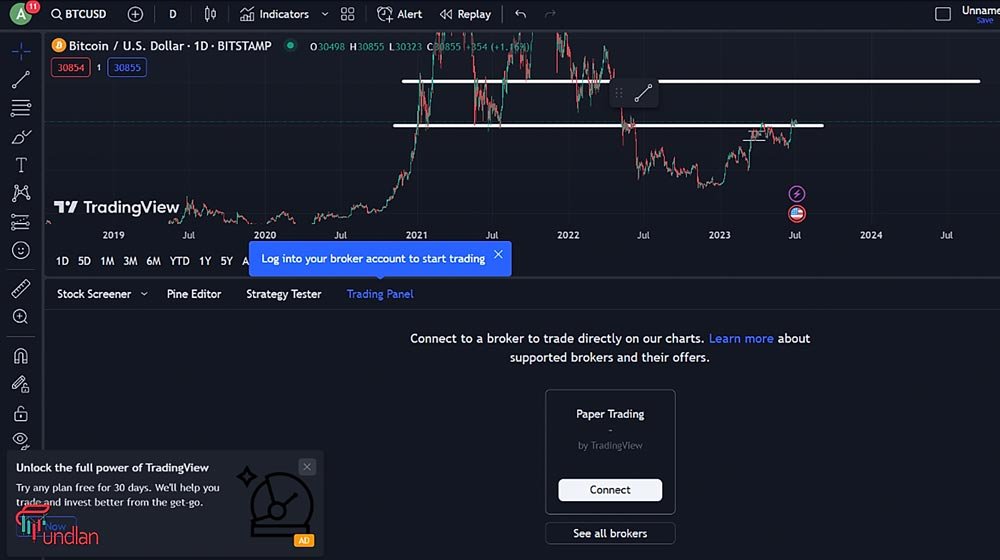 5. Click on "Connect"
After completing these steps, a demo account has been created for you in Tradingview, which will provide you with 100,000 virtual dollars in this account by default.
Now the real fun begins!
6. In order to start opening orders, right-click on the chart and go to settings.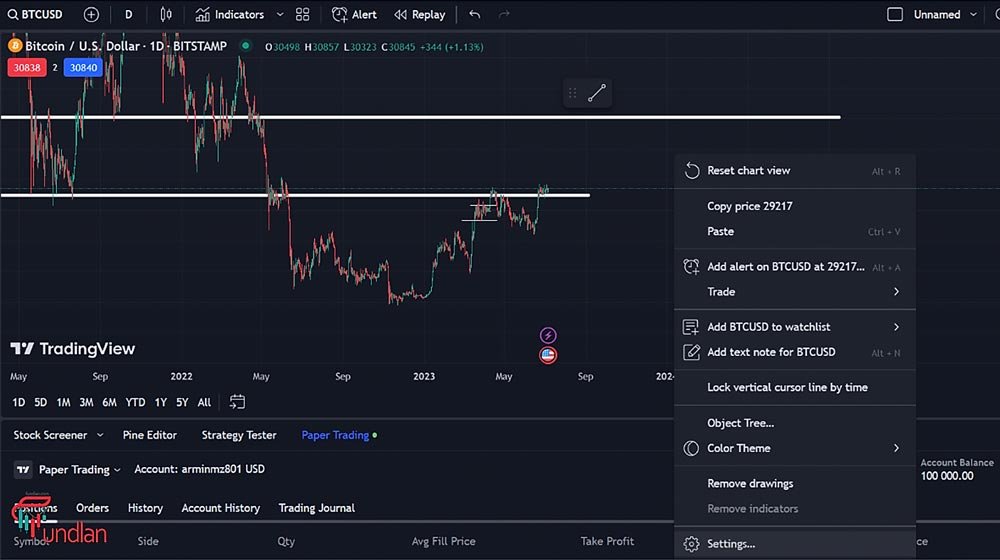 7. check the "BUY/SELL buttons" checkmark on the trading section.
8. After that, you can see the buy and sell buttons on your chart. Now by clicking on each of those two, you can fill in your order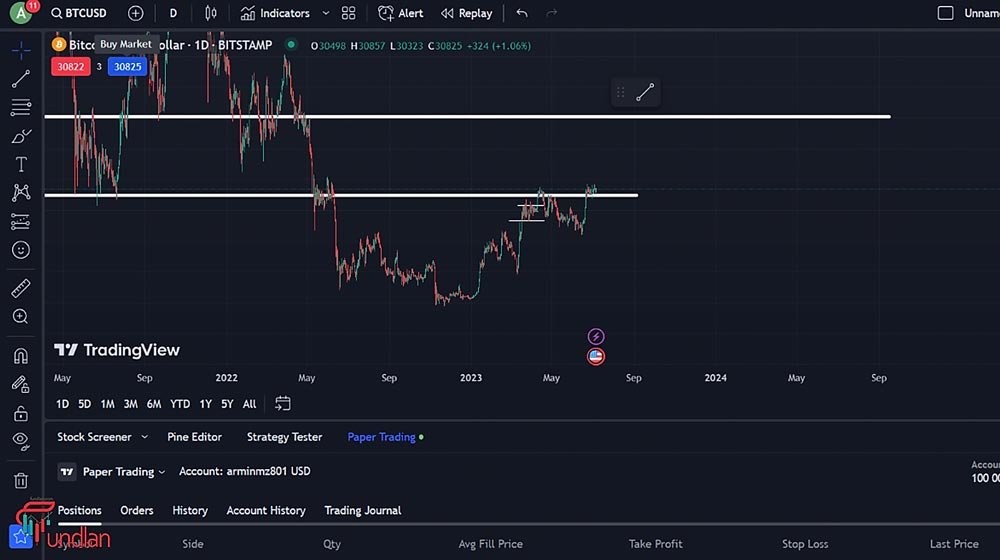 How to short on tradingview paper trading?
After learning the previous section, you are now able to open short or long orders on your tradingview paper trading platform. Isn't it exciting!
1-In order to open a short position, click on the red button.
2-In the new tab, the type of your order. Here we are going to use the limit order.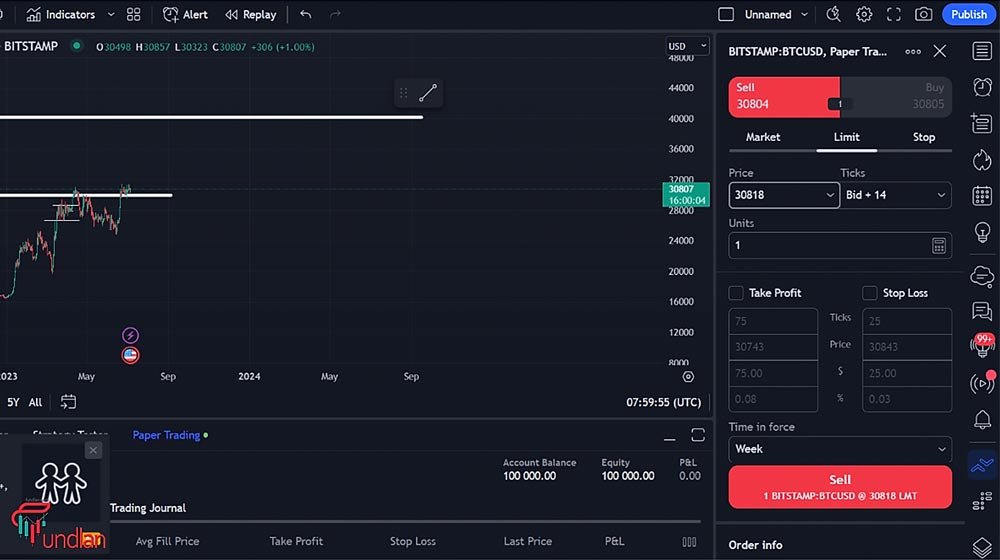 3-Fill in the price and units. Then choose a stop loss for your order.
4-Click on the sell button, and your order will go through.
Tradingview paper trading leverage settings
The default leverage on tradingview paper trading is 1:1 and unfortunately, you can't change this leverage
Tradingview paper trading is not working
If your tradingview paper trading is not showing up, check these reasons:
Your live account has been switched to another legal organization. Your previous paper trading account was therefore closed;
The new paper trading account that you requested is not yet available. Normally, activation takes 24 hours
Due to inactivity, your paper trading account has been shut down;
You've closed your live account. Your paper trading account will likewise be closed in that scenario.
Because a paper account is included with newer accounts, you have an older account and have never activated one.
If you are still having problems with your paper trading account, reach out to Tradingview's customer support and tell them all the details. Clearing your browser cache might help with your problem too.
Conclusion
Trading with virtual money and paper trading technique, in general, is one of the most basic methods before entering into real-world trading. Whether you work in the forex or cryptocurrency market doesn't matter. A demo account and trading in it can save you from a big mistake.
However, paper trading also has disadvantages that you should keep in mind. For instance, since you are not physically present during the actual trading, you can never comprehend it emotionally.
Trading simulators will never really replicate the emotions you would experience in stressful situations since actual trading is very emotional, and you are more likely to make many mistakes due to a nervous breakdown. Tradingview paper trading has not only saved us from the traditional methods of trading testing, but it has made it much easier to test trading strategies in real and live markets.