MetaMask bridge helps you to transfer your belongings from one blockchain to another blockchains.
There is a vast range of blockchains out there that users are dealing with regarding the wallet they use and the blockchains it supports.
The good news is that the MetaMask bridge will be even more helpful since the MetaMask crypto wallet supports many blockchains without any exceptions.
But have you ever wished to transfer your tokens from one blockchain to the other? In that case, do you know how to use bridges? How to import wallet to Metamask?
In this article, you will learn the MetaMask bridge and how to do it.
What is the MetaMask bridge?
Before anything, let's learn about the bridge and its use in cryptocurrency. A bridge is where you can transfer your holdings from one blockchain network to another.
Imagine using one blockchain, but most of your tokens are in another; here is where to use the bridge.
MetaMask bridge does the same thing; it helps you to transfer your belongings from one blockchain to another in the range of supported list of trc20 Metamask blockchains.
Its function is the same way as travel sites which search for a flight with a specific quality, like the cheapest or the soonest.
The MetaMask bridge also swaps for the cheapest token swap quote, so that is why it's crucially important to know how to use it and take advantage of it.
Each bridge has a mechanism to measure your deposit on the blockchain network and then equivalent it to the other.
How to bridge your MetaMask wallet?
To bridge your MetaMask wallet and use its benefits, you can easily go over the below instructions to see how it's done:
Step 1: Open your browser and then navigate to the MetaMask extension.
Step 2: Make sure the account you set has enough tokens you would like to bridge from, and the wallet you use is accurate and connected.
Step 3: Below the "From this network" field, you can select the blockchain network from which you would like to move your tokens.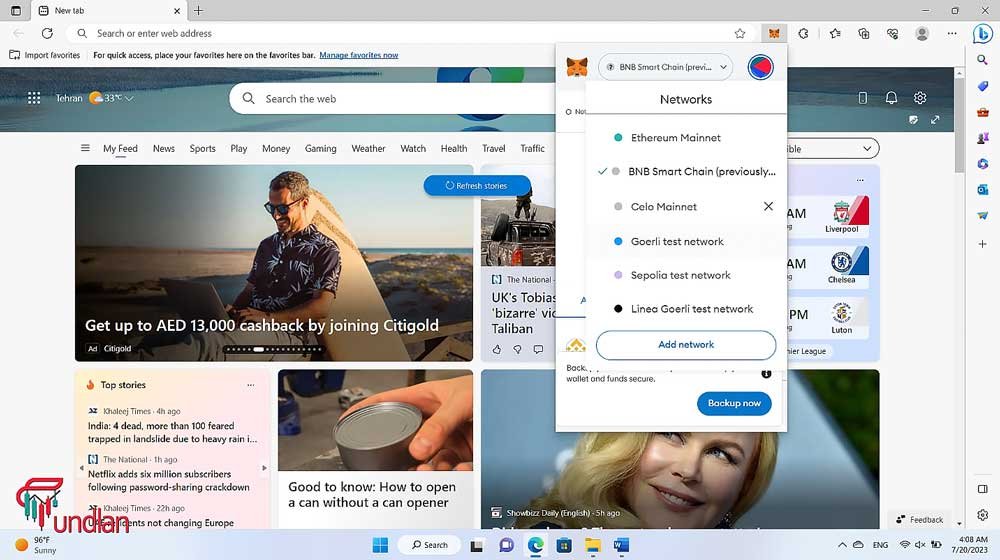 Step 4: In the "You send" section, enter the details of the token you want to bridge, which has a dropdown list showing whether you can transfer your tokens. It depends on two factors, does MetaMask support it, and do you hold that tokens in your wallet?
Step 5: in the section "To this network", you can choose the suitable network you would like to send your tokens via MetaMask bridge.(How to send USDT from Metamask to binance)
Step 6: Once you input the networks and number of tokens you want to bridge, the aggregator starts to search for quotes.
Step 7: in the section "Recommended bridge", you can easily see the suggested quotes that the aggregator found.
Step 8: You can choose your appropriate quote and see its dropdown part, which contains timing and fees. It will be updated every minute to ensure you observe valid and new data.
Step 9: If you want to check on another quote, click the "Choose different quote" on the top right of the quote container.
Step 10: When you find your ideal quote, you can tap on "Select", and then you need to sign the message using a wallet.
Once you are done with 10 steps on top, the MetaMask bridge is initiated, and after that.
Benefits of using MetaMask bridge
One of the biggest benefits of using MetaMask bridge is that it prevents you from wasting a couple of unnecessary hours searching the web for the cheapest quotes; that is what aggregator does, but way faster and automated. Metamask cancel transaction is very easy.
Security is another great advantage, since you are sure that you bridge only with platforms that pass the vetting process and are completely safe for users. Transparency matters so much, so the MetaMask constantly informs you about every transaction's risks, price, and expected duration time.
Another great benefit is that once the aggregator finds you the options, you are confident in their validity and credit, since the MetaMask is very reliable and what you choose is accurate.
Final words
Overall, the MetaMask bridge ensures you have no problem transferring your tokens across the blockchain networks, so knowing how to use them can be helpful.
On your way to transferring, what did you find irritating the most? How to connect metamask to website?
How do you avoid it? Have you ever wished to transfer more than the maximum value? What is that for?
Please share your comments, reply to others, and help with user confusion so we can all have a better experience using the MetaMask bridge!