MetaMask NFT not showing can happen for several reasons, such as wrong wallet address or not enabling auto-detection. Although MetaMask makes it easy to save NFT on a mobile device, many users have stated that their NFT is not showing in their wallets under the collectibles tab. So, how can we fix that issue?
Fortunately, many tips and tricks exist to fix this issue, and see your NFT in MetaMask.
How to avoid gas fees on metamask?
MetaMask not showing NFT image
Unless you have not activated the MetaMask's Auto-Detect option, it can be typical for MetaMask NFT not to show when you purchase them using your wallet.
Any trade NFTs you do using your wallet address are immediately retrieved by the Auto-Detect feature from marketplaces, especially Open Sea. Therefore, it is possible that NFT won't appear in your wallet if you haven't enabled this feature. To enable this option, go to your MetaMask settings and enable API and Auto Detect settings.
Transfer USDT from Metamask to Binance
How to see NFT in MetaMask?
1. Go to the website where you have stored your NFT and copy the NFT code and the token ID
2. Log into your MetaMask and choose the NFT tab.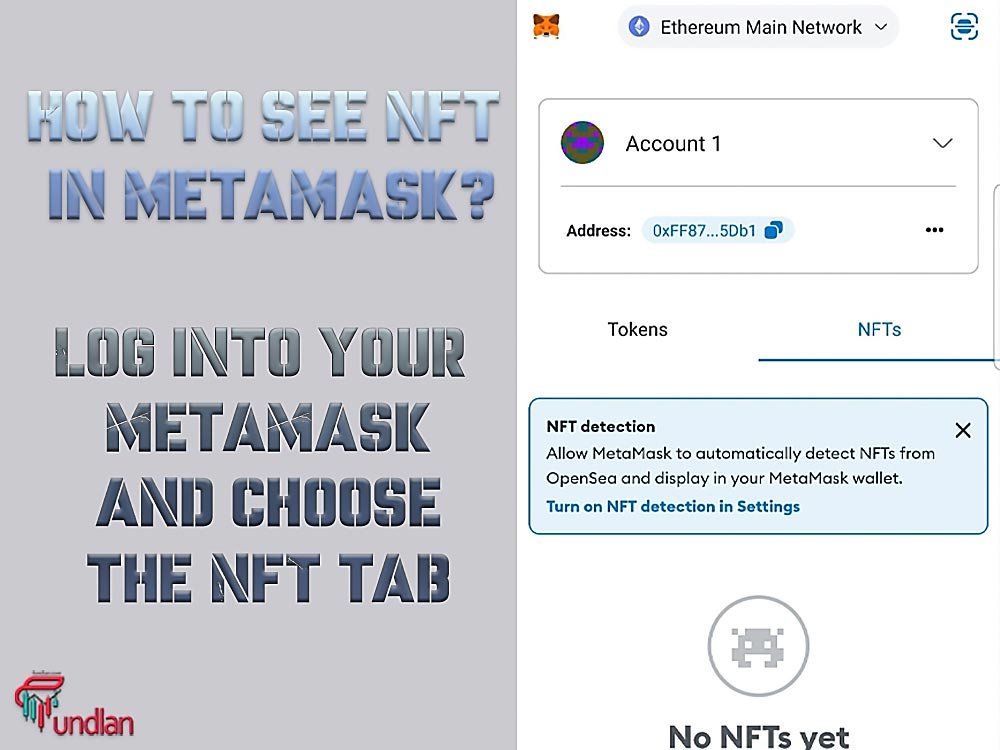 3. Under the empty NFT tab, click on import NFTs.
4. After that, paste the information that you copied from the webpage in the blank text.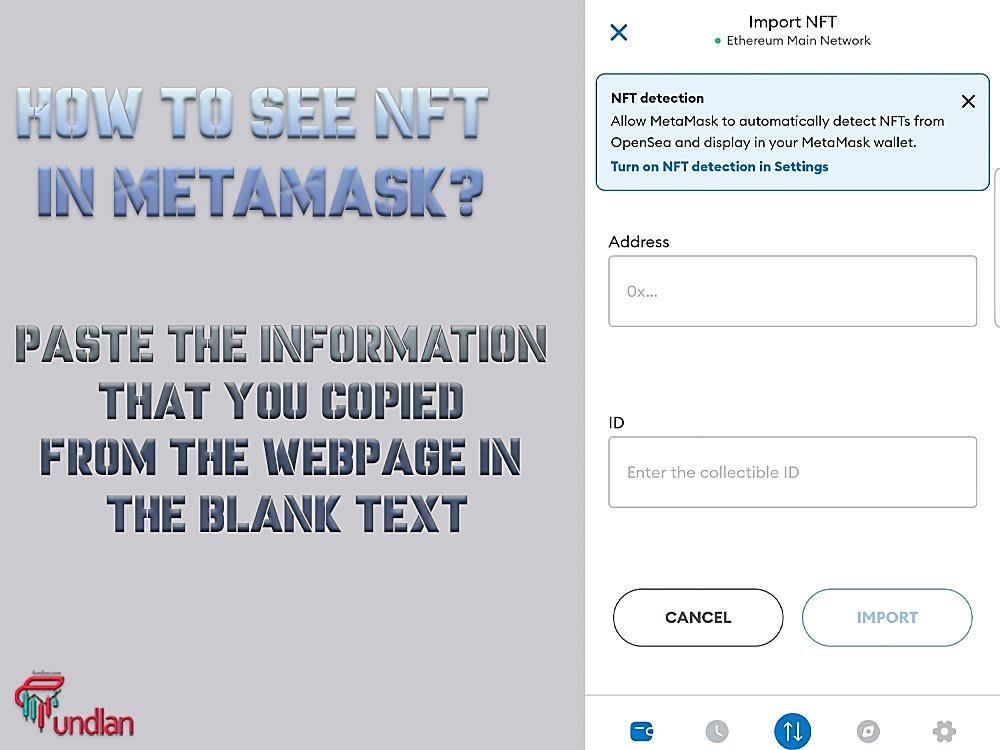 5. Click on the import button. Done!!
After that, you can see your NFT under the NFT tab in your MetaMask wallet. You can click on the NFT to see the details. There, you can see the token standard and asset contract. If you want to send your NFT, click on send and add the address.
Note: Make sure the option to add NFTs to your wallet automatically is turned off and that you don't import any NFTs into your wallet that you don't know and are unsure about their contract. Hackers can access your assets by sending you an NFT and importing it afterward.
Note that only MetaMask Mobile can currently show NFTs.
Here's how to see the NFT in your wallet using the Auto-Detect feature:
– Open your MetaMask wallet and log in.
– Click on the side menu.
– Click on SETTINGS and then go to SECURITY & PRIVACY.
– Finally, click on both Enable OpenSea API and autodetect NFTs settings.
After enabling the Auto-Detect setting, NFT rarely will not appear in MetaMask.
However, this could occur if you make some mistakes, mainly when adding NFT to the incorrect wallet, using the MetaMask wallet extension, or entering the false NFT identifier. Now that you know why MetaMask NFT is not showing, let's continue the article with more solutions.
Why is my NFT not showing up in MetaMask?
1. NFT Contract Address Ownership
Before considering contract address issues with the transaction, it's essential to use a block explorer to check if your NFT appears there. You can check your NFT Address on Ether scan.
Etherscan is a famous block explorer that you can use to verify the NFT ownership information. You need to put the NFT token ID in the block explorer.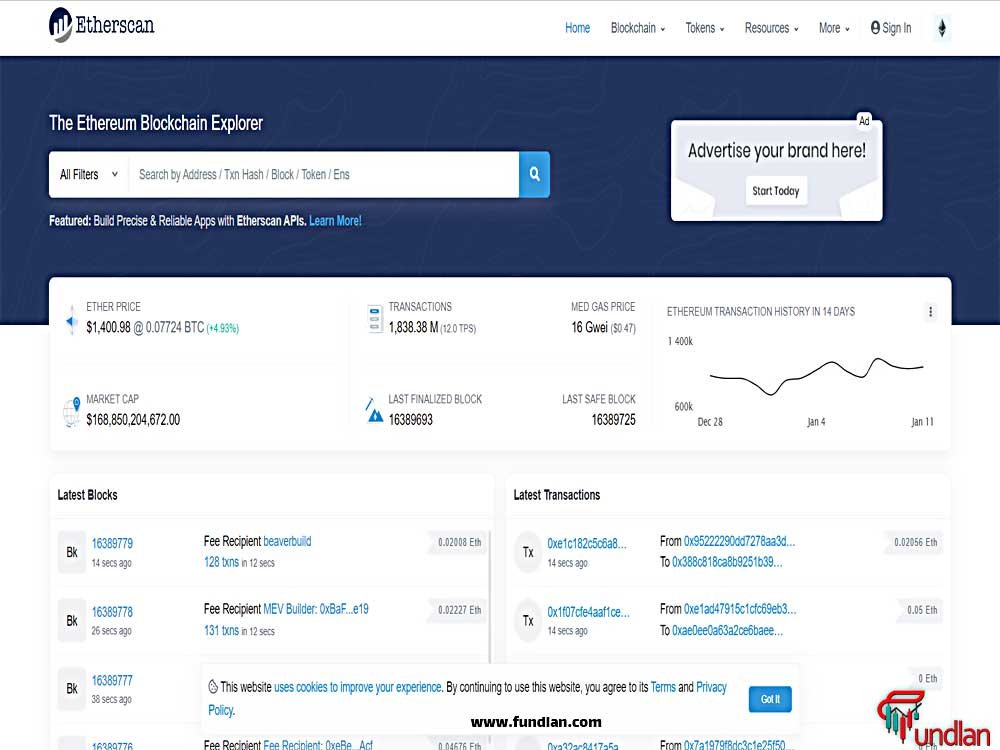 Put the address on Etherscan; if you already put it on Etherscan, and it shows that the NFT address is valid and yours, move on to the following solution.
2. Problem with the MetaMask Extension
Use the MetaMask app on your phone to see your NFTs. Regarding NFTs, it is still impossible to view them on the MetaMask desktop, so if you want to see your NFT, we suggest using the MetaMask mobile app on your mobile device instead.
Download the MetaMask wallet from here, save the recovery phrase, and check your phone's collectibles tab for NFT.
At this point, we have discussed using the wrong address and the problem with auto-detect. If your problem persists, try the following solution.
3. MetaMask NFT not showing due to adding to the wrong MetaMask Account
Using the correct wallet address on MetaMask before making NFT transactions is a must for NFT ideas and NFT collectors, and MetaMask prompts users to verify their accounts. Remember that NFTs are nothing without ownership, so if you use the wrong wallet address, the NFT won't appear in your collectibles tab.
4. Incompatible NFT Unique Identifier
If you typed the wrong collectible ID and address from OpenSea on MetaMask, proceed to the next solution. Remember that OpenSea is the data provider of MetaMask's NFT data, so verify the data in Your MetaMask and OpenSea Accounts.
The unique identifier of the asset you put on MetaMask must be the same as in OpenSea. Likewise, all the data must match the identifiers in OpenSea. Otherwise, the NFT won't be added.
How to see NFTs on the MetaMask desktop?
The browser extension of the MetaMask wallet can be used to add NFT. However, users can't see them natively in the extension unless they use MetaMask mobile app. The developer's team is already improving NFT support on the MetaMask desktop extension; until today, MetaMask NFT not showing on the desktop is an unsolvable problem.
How to cancel a Metamask transaction
Conclusion
This article provides all the information you need to see your NFT on your MetaMask wallet. MetaMask NFT not showing can be a serious problem for NFT holders. If you have this problem, enable the autodetect feature in MetaMask settings.
After that, if the problem persists, you have to check the NFT ownership and see if you are using the right Coinbase vs Metamask wallet. Remember that the NFT in the MetaMask desktop extension is not available yet, and you have to wait for MetaMask developers to add this feature in the future.